Working as a copywriter means you also have to work in a group. Sometimes it's easier to find inspiration during brainstorms or meetings. But what if you are stuck at home due to COVID-19 (Coronavirus Disease 2019) and now working remotely only? How to be a great copywriter?
Find the advantages in this situation! You have plenty of uninterrupted time to fill your mind with insights and great ideas. Do your online research, review press and social media. Keep your ear to the ground.It helps you create your own slogans.
Here are some of our favourites.
Global: https://www.adsoftheworld.com, https://www.adweek.com and Poland-made: https://papaya.rocks/pl, https://inspiracjemarketingowe.pl/, https://brief.pl/, https://www.youtube.com/user/PamikuPL
We know you will be scrolling your Facebook and Instagram throughout the day. Good! You will find lots of ideas there — now even memes carry great insights. But, don't do it mindlessly. Think about your projects at the same time. As Pablo Picasso said, "inspiration exists but it has to find you working". True, true.
Use your time at home to take a closer look around it. You might find inspiration even in the most ordinary things, like your favourite book, a piece of poetry, or a magazine that you never had time to read. Have you noticed how music can change a movie scene from plain to epic? Play your home office soundtrack out loud! Make yourself free from headphones – finally, no-one will complain.
Writer's block? Lack of ideas? If you aren't spending the quarantine alone, you can easily overcome both those problems. Pitch your ideas to whomever you are stuck with! Make them your target group, ask about unbiased opinions. It's important to consult with somebody who is not a part of the ad business.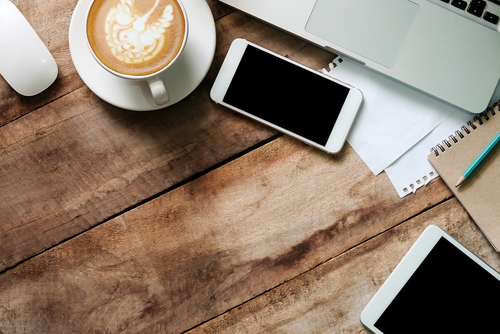 Effective copywriting – tips and tools
What about emails, newsletters, articles and books – the copywriter's essentials? During your home office, spend some time thinking about work organization. Read more to expand your knowledge and hone effective copywriting skills. FlowReads creates a list of recommended books based on your needs and expectations. You can also use recommendations from experts in various fields. Not enough? You will also find suggestions for articles about creativity, motivation, psychology, sociology, management  and more!
What about a lack of motivation? Keep yourself focused and powered-up with a "to-do" list. Any.do is an app that will help you organize your work and plan your day. It shines the most when you work on multiple projects at the same time. Sometimes even just seeing your tasks in order is a good stimulus and marking one as completed will fire you up to finish the rest!
All great, but you are still missing brainstorms? Do them online! Bubbl.us is a tool which helps you create a mind map. All copywriters know that this is a great first step towards coming up with big ideas. Bubbls.us allows you to not only create such maps but also share and attractively show your ideas.
Oh, the boss is video calling… 😉
Last but not least
Working as a digital copywriter is a great and often a very fun job but even while working at home you have to take care of your work-life balance! The brain is the most important tool of copywriter's trade and just like muscles it can become fatigued from overworking. Take short breaks, let some fresh spring air inside, catch the sun on the balcony. Sometimes the greatest ideas are born when you think about anything but work.
Take care and stay healthy.
Read also: Fails in our previous office design