Signup forms is vital if you want to encourage users to use your services. And part of good user experience is microcopy, which the user finds on the signup page.
How to design an effective registration web page
Why don't people like registering? There are a few reasons. First of all, signing up is a kind of form and users do not like forms. Filling in a form is time-consuming and requires effort. And we – people – are lazy. We try to avoid anything that requires effort from us and we prefer to spend our precious time doing something more pleasant than filling in a form.
Secondly, when you fill in a signup form, very often not only do you need to recall some data from your memory, but also you have to create something specifically: your password. And it takes lots of your mental capacity. The cognitive load is significant, especially if the password should be strong.
Last but not least, registering is perceived by the user as a form of commitment. And we do not like to commit to anything if we do not have a special reason for that. Very often we prefer not to experience various consequences that the signing up may bring, like receiving unwanted emails or being billed unnecessarily.
So what's the solution? The best registration is no registration at all. If you do not need to make your users register – don't do that. But sometimes you cannot get around that. So, if you do decide to design a registration form, work hard to make as good a signup page design as possible. And good microcopy is an important part of this process.
Understand who you're talking to
Before you start, take a step back and ask yourself, "Who am I talking to?" "Who is my target audience?" You should know not only who your users are, but also what needs they have, what problem they wish to solve and how your product is addressing these problems and needs. That will help you to get to know what message you want to convey and what language to use. If you want to have great microcopy, don't skip this task.
The best thing you can do is to design voice and tone for your brand that will define the language you use. Of course not only for sign up and login pages, but for the whole brand and all the products belonging to this brand. So I strongly recommend doing that upfront, even if it seems time-consuming. Writing microcopy with voice-and-tone guidelines will yield fruitful results.
Read also: How to become a User Experience Designer with no experience
Use a good title
The best signup page design starts with a good title. By choosing an appropriate one, you help your users understand clearly where they are and what can they do on the sign-up page. So "Register," Sign up" or "Create an account" are good choices. It is a good idea to add something that will make this page more friendly, such as "Nice to meet you" or "Let's get started." Thanks to that, you avoid being too technical, and you add personality to your page.
Give reasons for signing up
If you want to persuade someone to register, you should explain why it is worth doing. What benefits will your users get from registering? How does it relate to their pains and needs? What value will they get from it? This is your elevator pitch, so be concise and encouraging, for example, use 3-5 bullet points.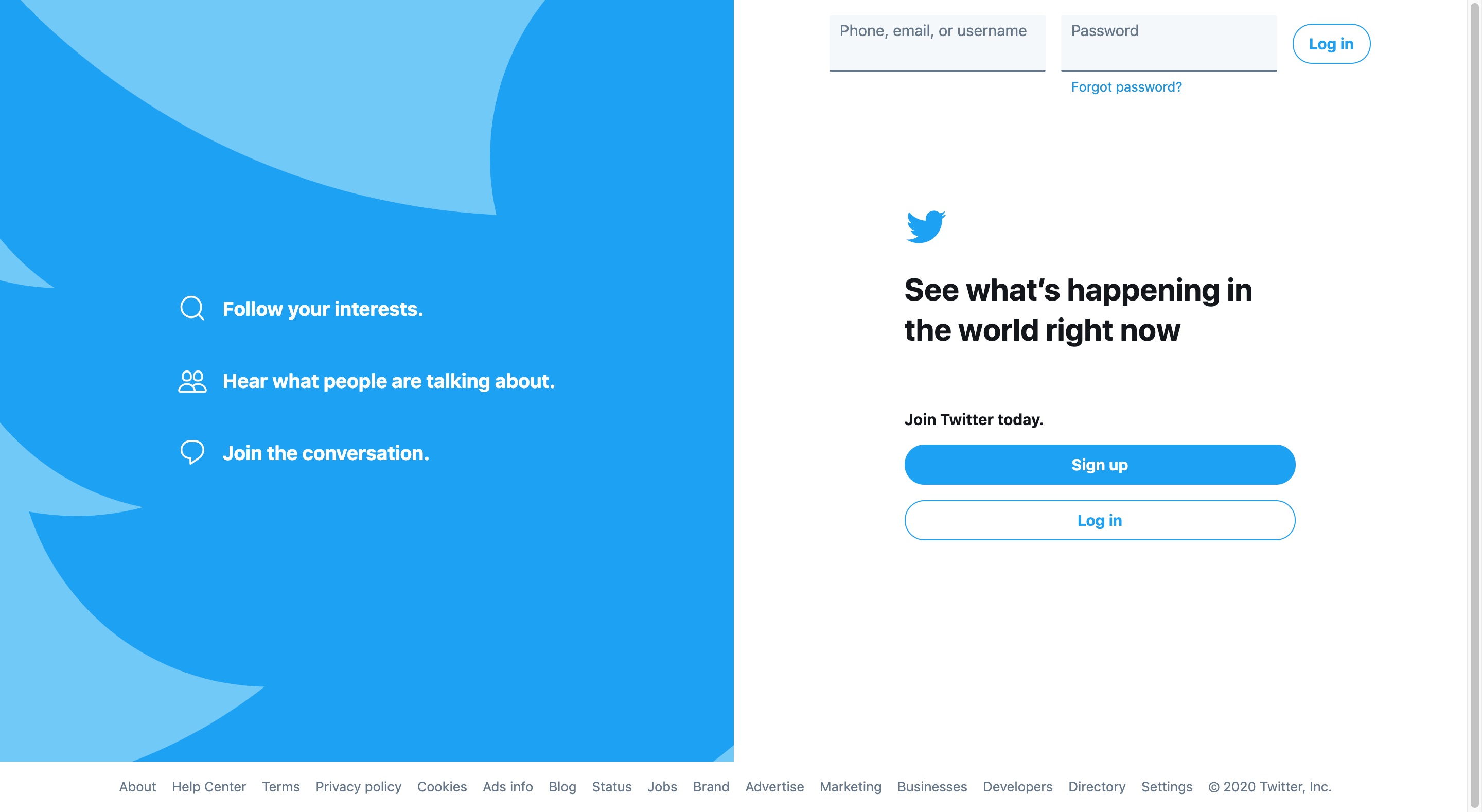 Twitter sign up page, Source: twitter.com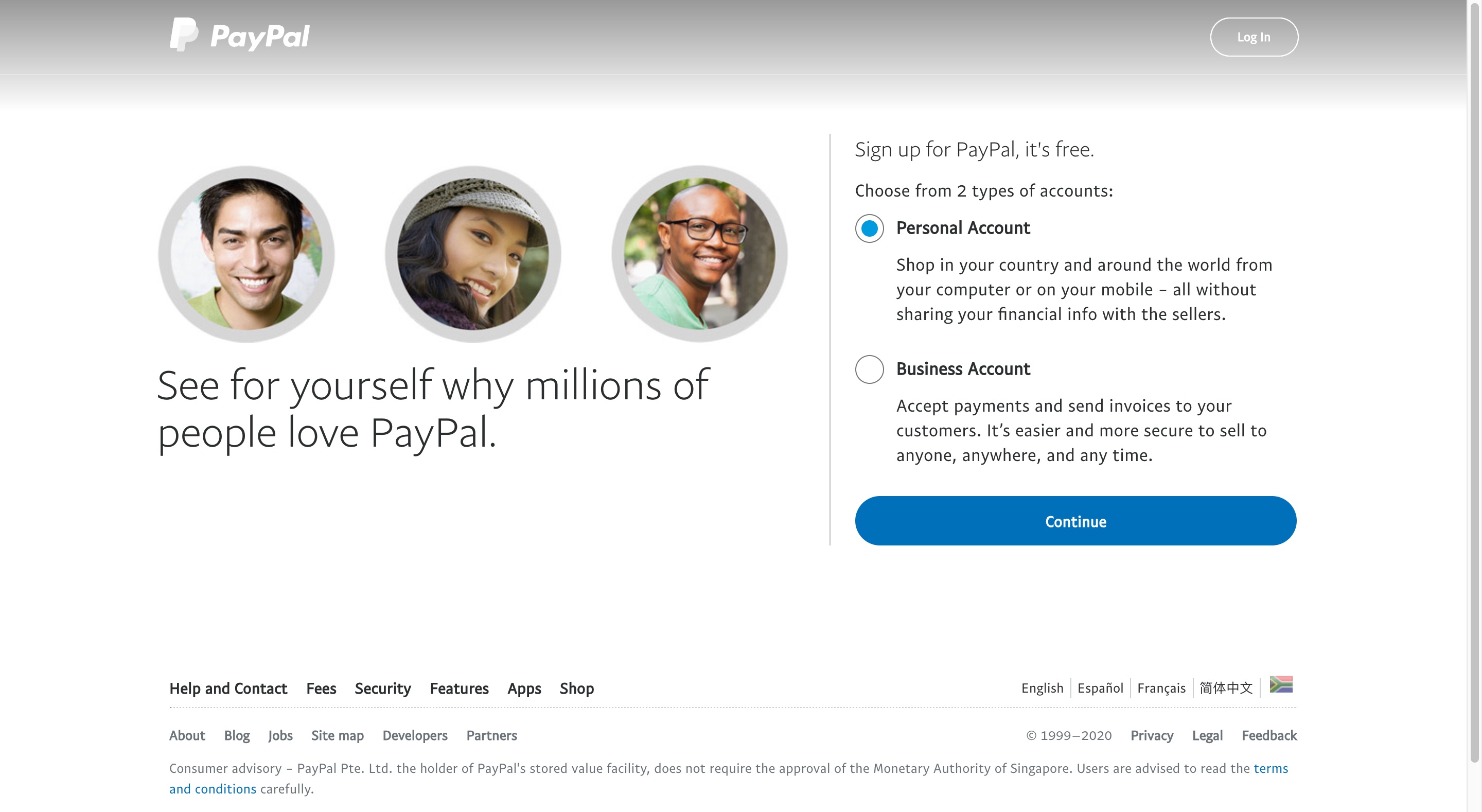 PayPal sign up page, Source: PayPal.com
Read also: Mobile apps in the service of mental health
Remove doubts
Your users for sure will have some doubts before registering. "Will it take too much time?" "Will they flood me with unwanted emails?" "Will they want me to pay later on"? Your sign-up page web design should deal with this. Confront those doubts (and any others if necessary) upfront by promising that you will not send spam to your users, that the service is free (if it is) and that registering is hassle-free.
Button microcopy
Pay attention to the buttons that need to be clicked to register. It is crucial: careful wording can make your signup page design more effective and increase conversion on your registering significantly. The button should not say what the user does, but rather what the user gets. Instead of showing what (tedious) work needs to be done by the user, better to show the value they will gain from registering.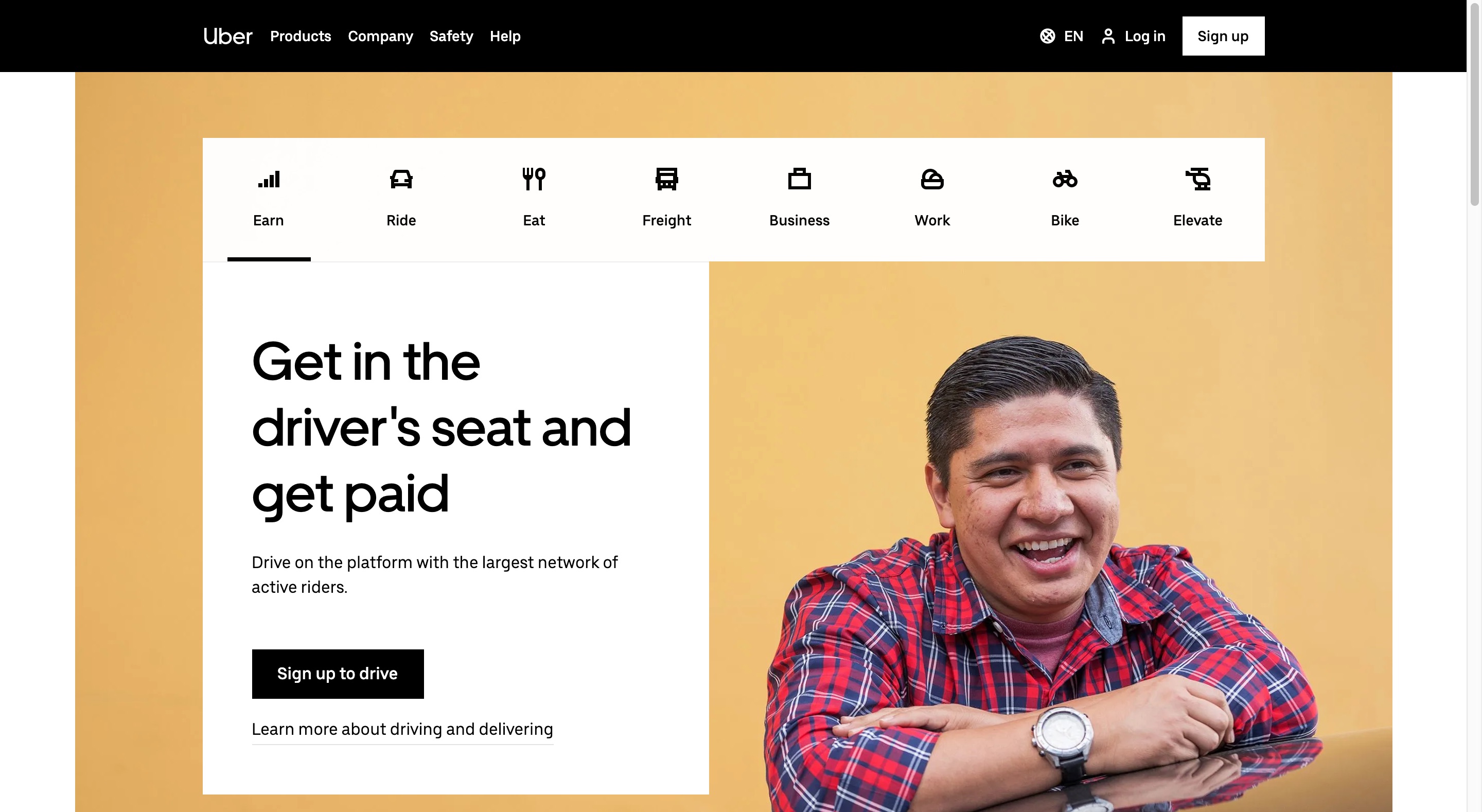 Uber sign up page for drivers,

Source:

uber.com
Microcopy success message
Website registration page design should include a well prepared success screen at the end. It should give them appropriate feedback. Design a success screen which not only informs them that the job is done, but also gives a reward – a feeling of satisfaction, reassuring the user that registering was a good decision. The copy on the success screen should not only inform, but also show the personality of your product and give the impression of talking with a real person. Remember to follow your voice-and-tone guidelines!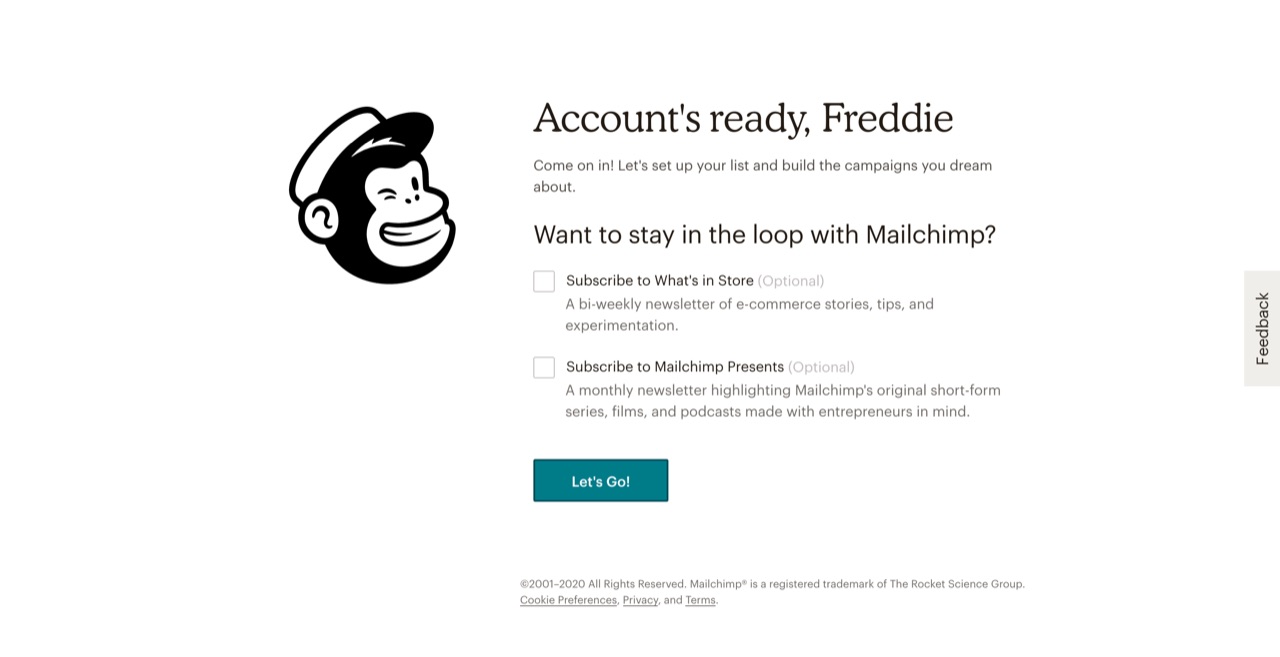 Mailchimp success screen, Source : mailchimp.com
Read also: Dark vs light for website background: Which is better?
Sign up, register or join?
You should choose wording depending on what message you want to convey. "Sign up" indicates a simple process, while can be perceived as something more complex. On the other hand, "join" or "join us" is useful if you want to create a sense of community.
But be careful. It is not a good idea to put "sign in" and "sign up" buttons side by side. Users tend to mix them up. So if you go with go with "login" instead of "sign in.
Signing up with social media
Adding the possibility to sign up with social media is a good move. People do not like to create a new password every time they register and some of them will find "log in with Facebook" or "log in with Google account" handy. But they may have some doubts concerning privacy issues. Assure them that their data will not be abused and that nothing will be published on their account without their express consent.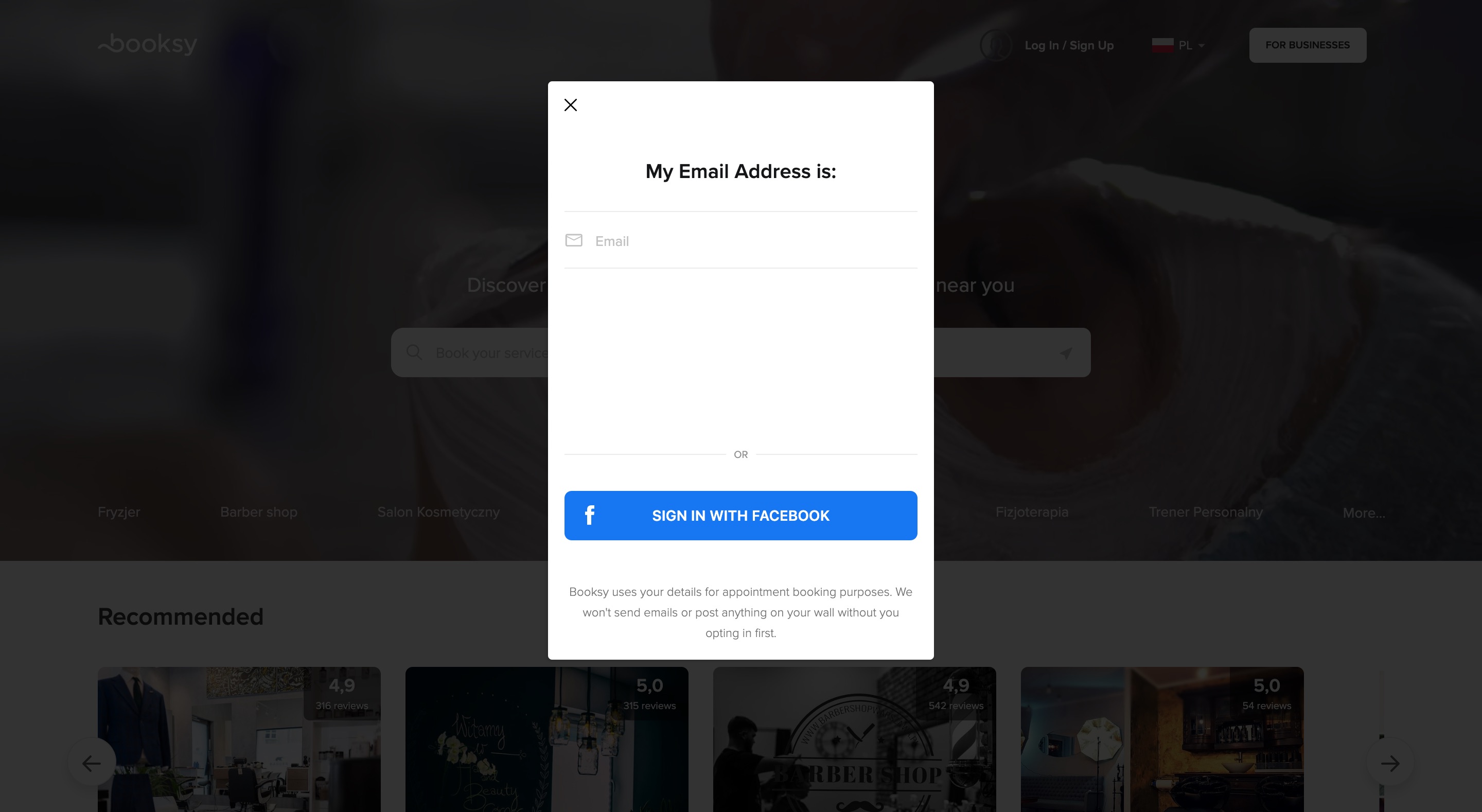 Booksy sign up form with "Sign in with Facebook" button, Source : booksy.com
Read also: Company website – key things to look out for when building a company website